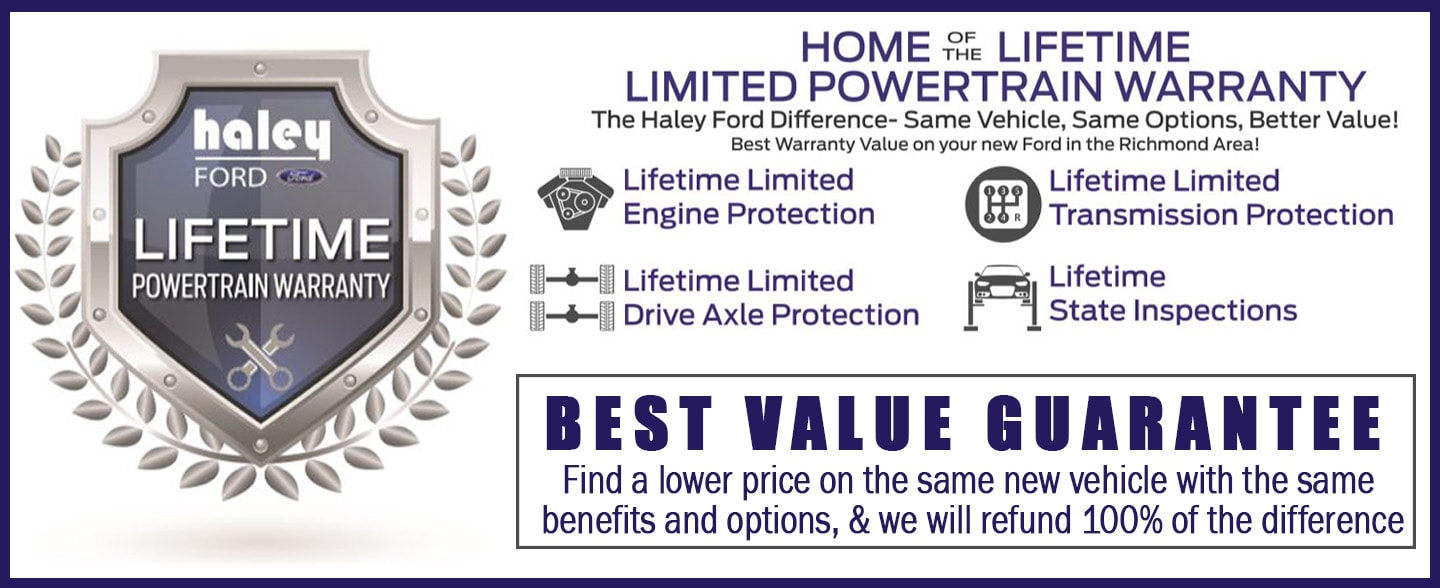 Here at Haley Ford, we would like to extend our appreciation to our customers by offering added protection for your new Ford Vehicle with The Haley Ford Difference.  Vehicles are now better than ever and we would like to help keep yours in the best possible condition. Same car or truck, Same Options, Better Value.  The Limited Lifetime Power train Warranty allows you to drive longer and farther than ever before, while saving you money on significant repair costs for the lifetime of your vehicle. With the Limited Lifetime Power train Warranty, our customers are given the ultimate peace of mind without the added expense.
The Benefit Breakdown:  What's Included?
Best Warranty Value on your new Ford in the Richmond Area!
| | |
| --- | --- |
|  Lifetime Engine Protection |  Universal Coverage- Must Service with Haley Ford |
|  Lifetime Transmission Protection |  First Oil Change Covered |
|  Lifetime Drive Axle Protection |  Free Shuttle Service |
|  Lifetime Seals and Gaskets |  Lifetime State Inspections |
|  $1000 Trade-In Assistance when ready to trade up |  Diesel Engines are Included |
****See your Haley Ford Sales Professional for more details on our Lifetime Limited Warranty Program****
Frequently Asked Questions: What's the Catch?
Q- What's covered under Lifetime Powertrain Protection? 
A- See Chart Below!
Q- How long does Lifetime Powertrain Protection last? 
A- If you have the required vehicle maintenance performed at the selling dealer, then Lifetime Powertrain Protection will continue as long as you own the vehicle! There is no restriction on time or elapsed miles.
Q- Can I get Lifetime Powertrain Protection from another dealer in the area? 
A- No, our dealership is the only Ford dealership in the area offering Lifetime Powertrain Protection.
Q- How much does Lifetime Powertrain Protection cost? 
A-Lifetime Powertrain Protection is provided to you free of charge! Our goal is to build "Customers for Life", so Lifetime Powertrain Protection comes standard with every qualifying vehicle that we sell.  You need only follow the manufacturers routine maintenance requirements explained on the Lifetime Powertrain Protection certificate to qualify for benefits.
Q- Is there any extra maintenance required to maintain eligibility? 
A- You must have oil and filter changes, transmission fluid changes and tire rotations performed at Haley Ford within 1,000 miles of the required service intervals.  However, we strongly recommend that you comply with the manufacturer's other servicing recommendations (based on your driving habits and climate conditions). Our service center is happy to assist you with additional vehicle maintenance to ensure that your vehicle is kept in maximum operating condition.
Q-  Do I have to have all of my service completed at your dealership? 
A- Yes, our top notch service department is here to serve all your vehicle needs.  As an added benefit by servicing with us, we'll keep all your maintenance records on file for your convenience when it's time to trade up.Areas of Coverage:
Engine:
 
Engine Block, Cylinder Heads, rotor housing, oil pan, valve cover; all internally lubricated parts contained in the engine; oil pump, timing chain, gears, tensioners, timing belt and tensioners; balance belt, variable valve camshaft adjuster; intake and exhaust manifolds; harmonic balancer; engine mounts; water pump; flywheel; and flex plate
Transmission:
 
Trans axle & Transfer Case:
(Automatic and Standard) Case housings, housing covers and pans; all internally lubricated parts contained within the housings; torque converter; viscous coupling; vacuum modulator; and transmission mounts; transfer case shift/encoder motor; and range position sensor/switch
Drive Axle:
 
Front and rear drive axle housings and covers; all internally lubricated parts contained within the drive axle housings; axle shafts; constant velocity joints and boots; drive shafts; universal joints; flex discs; drive shaft center support bearing; drive shaft yokes; four wheel drive engagement actuators and motors; and four wheel drive locking hubs.